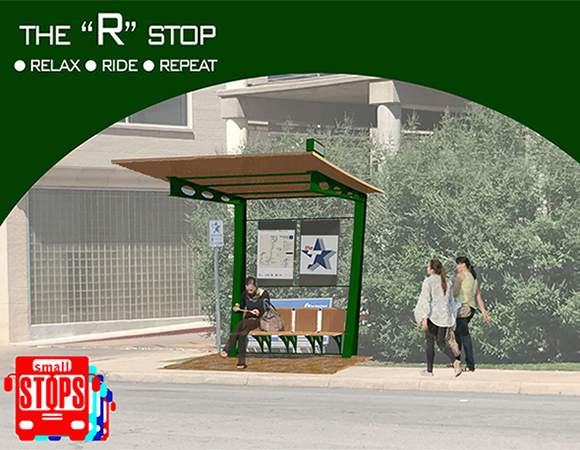 The Fort Worth office recently won the Functional Category, Professional Award in the SMALL STOPS: Designing Fort Worth Bus Shelters design competition. This is a single-stage design ideas competition intended to catalyze sustainable, functional, and creative bus shelters for locations where there is limited space available. Competition hosts included Near Southside, Inc., and Leadership Fort Worth—in partnership with the Fort Worth Transportation Authority (FWTA), and the American Institute of Architects Fort Worth Chapter.
FWTA is continuing to work with the Fort Worth office as they consider using our team's design as a prototype across the city.
ABOUT THE DESIGN
This design is intended to combine the simple elegance of traditional steel members with a minimalistic style provided by its few structural components. It has four individual seats and an adequate location for bus information placed between the columns, including a sensor activated notification device at the top of the deck. The steel deck, with a slight accent curve, supplements the dual tone members that give the bus stop noticeability, yet blends organically with its surrounding built environment. More importantly, the design addresses all the required passenger requests for shade, seating, bus information, lighting, etc., keeping in mind the need for cost efficiency and durability. So sit, relax, ride, and repeat.
Congratulations to Adolfo Gonzalez (primary designer), Dustin Chappell, Amber Estrada, Jim Fullmer, Bill Hoelscher, and Shalece Thompson on this design award!