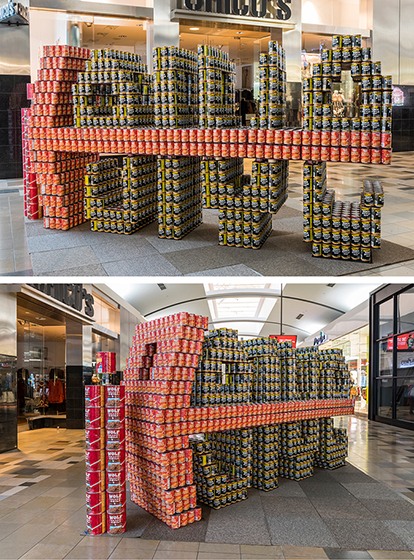 Huitt-Zollars recently won the "Structural Ingenuity" Award in the Canstruction Fort Worth competition held at Northeast Mall in Hurst, Texas from October 16-23. As a unique charity that hosts competitions, exhibitions, and events in over 150 cities worldwide, Canstruction showcases colossal structures made of unopened cans of food that are later donated to local hunger relief organizations. The charity has helped raise nearly 30 million pounds of food since 1992. After the competition, Huitt-Zollars donated 3,180 cans of food to the Tarrant Area Food Bank, an organization that serves 53,000 households per month.

Team Members:
Brandon Cole (Captain), David Campbell, Irma Hope, Celia Ledbetter, Shawn Moehring, Adam Moyer, Kelly Norris, and Brandon Tedrow 

Thank you to our sponsors:
Huitt-Zollars' Fort Worth and Dallas Employees, Huitt-Zollars, Inc., Red Oak Realty, Byrne Construction, Sundt Construction, Texas Draft Co., and Wal-Mart Supercenter – Weatherford, TX,

Structure Title: "GIVE"
Can Count: 3,180

I Give One Can.
Can I Give One?
One Can I Give.
Give One I Can!
I Can Give One!

No matter how you say it the message is simple and important.  With over 1.9 million people in Tarrant County, the simple act of giving one can would go a long way in helping the Tarrant County Food Bank to achieve their mission:

Empowering communities to eliminate hunger by providing food, education and resources through innovation and collaboration.  Through collaboration we as a community has the power to eliminate hunger for the 1 in 4 children who live in food-insecure households.

So repeat after us, "I Give One Can," to make a difference in the 53,000 households served monthly by the Tarrant Area Food Bank.