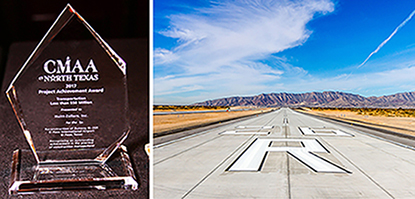 Huitt­-Zollars received the Construction Management Association of America (CMAA) North Texas 2017 Project Achievement Award for Transportation Less Than $50M for Reconstruction of El Paso International Airport Runway 8L­-26R at the Awards Gala on Wednesday, May 24. CMAA North Texas recognizes and promotes outstanding achievement, professionalism, and excellence in the management of the construction process.
ABOUT THE PROJECT
Huitt­-Zollars was selected by the El Paso International Airport (EPIA) to provide construction management and inspection services for the $17.5 million reconstruction of an existing 5,499­-LF runway and two taxiways, a new parallel taxiway, and three new connecting taxiways. Professional services included providing airport safety and security considerations, construction oversight of new signage, runway and taxiway edge lights, storm water improvements, 10-­foot stabilized shoulders alongside the proposed runway and reconstructed taxiways, bridging over three liquid petroleum lines, relocation of El Paso water lines, Federal Aviation Administration power and communication lines, and a storm water pollution prevention plan.
A detailed Statement of Qualifications was provided by Huitt-­Zollars, exhibiting a clear understanding of EPIA's needs. The firm demonstrated the ability to provide quality project direction, deliver successful construction management, meet schedules, control budgets, and coordinate construction between the airport's two main operating runways.
Congratulations to the Huitt­-Zollars team (Jerry Prusik, Ken Rasor, and Richard Beltran) and to the El Paso International Airport on this award!