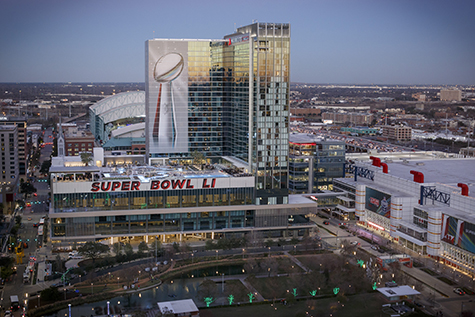 Rising 30 stories above Discovery Green, the newly-opened Marriott Marquis Houston is NFL Headquarters for Super Bowl LI. As the world shifts its focus to this heavily-anticipated contest and its two weeks of associated events, Downtown Houston will be featured prominently.  And, from rooftops to sidewalks, the world will see a beautiful Houston prominently shaped by Huitt-Zollars.
Morris, a Huitt-Zollars company, provided architectural services for the Marriott Marquis Houston, a 1.1 million-SF, world-class hotel featuring 1,000 guest rooms and 105,000 SF of meeting space linked by sky bridge to the George R. Brown Convention Center. But wait, there's more. One hundred fifteen (115) feet above the street, the Marriott Marquis features an extraordinary 90,000-SF indoor/outdoor amenity level. Envisioned as a meeting destination and an urban resort, it offers a state-of-the-art-fitness center and spa, concierge lounge, infinity pool and pool bar, extensive outdoor function space, and the now-famous 550-foot 'Texas Lazy River'. At street level, three sides of the hotel are lined with stores and restaurants, including a two-story sports bar facing Avenida de las Americas. The hotel's biggest contribution to the district, though, is the careful coordination of its loading docks, fire exits, and back-of-house services which maximize the building's relationship to its surrounding streets.
Around the hotel, Crawford and Walker streets have been narrowed to be friendlier to pedestrians, and Avenida de las Americas has been converted from an 8-lane street to a broad plaza with just two lanes of traffic, a recommendation from the Morris/Huitt-Zollars Downtown-EaDo Livable Centers Study completed in 2011. The study envisioned a walkable, mixed-use district with hotels, restaurants, and residential, and, only 6 years later, the vision has taken shape. Other recommendations include a downtown living incentive program that has helped create over 3,000 new residential units downtown, a two-way bike lane installed on Lamar, and the reconstruction of Dallas Street, which Morris/Huitt-Zollars helped define as part of the Downtown Retail Task Force.
The hotel is located in the Houston Convention District which is connected by the Green and Purple light rail lines (opened in 2015) to the rest of downtown including the Theatre District, Main Street, and Dynamo stadium in East Downtown. Huitt-Zollars was the engineer for the downtown section of the lines, including reconstruction of Capitol and Rusk streets, some of the oldest and most dense sections of downtown, and a crossing with the existing Red Line – only the second such light rail intersection in the country. When visitors board the Red Line to head to the big game, they'll be riding down a street that was just improved with new paving, lighting, landscaping, and artwork. That reconstruction, too, is a Huitt-Zollars project.
The firm played a crucial role in transforming the once-vacant east side of Downtown Houston into the Houston Convention District – a modern, bustling, walkable environment that will serve as the center of activity for Super Bowl LI. But we're not done – in fact, we're just getting our second wind. Our buildings and ideas are still shaping Houston. Looking out from the 40th floor of our office in Downtown Houston, we see a city that's more lively, more engaging, and more impressive thanks to the work of our architects, engineers, and planners, and we're proud to be a part of it all.