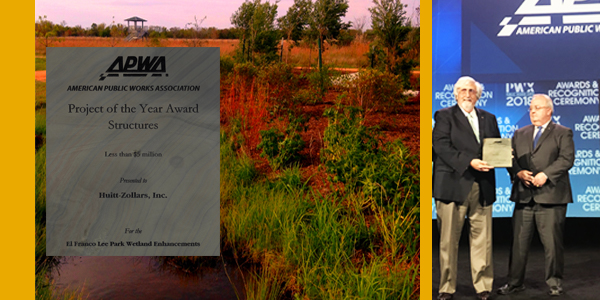 Harris County Precinct One's El Franco Lee Park Wetland Enhancements project was recognized by the American Public Works Association, receiving the APWA Project of the Year award in the Structures less than $5 Million category. Huitt-Zollars' Randy Hickey, Project Manager, and Greg Wine, Public Works Market Sector Leader, accepted the award on behalf of Huitt-Zollars at the Awards Recognition Ceremony held during PWX on August 27, 2018.
The APWA Public Works Project of the Year Award promotes excellence in the management and administration of public works projects by recognizing the alliance and collaboration between the managing agency, the consultant/architect/engineer, and the contractor to complete public works projects.
Read more about the wetland enhancements project and the ADVANCEDESIGN solutions here.
Congratulations to the Huitt-Zollars team (Randy Hickey, Mike Tehrani, Behka Ljuboja, Jeff Holba, Katrina Flamino, Diana Ruiz, Dewey Brunt, Amanda Dean, and Greg Wine) and Harris County Precinct One on this award!