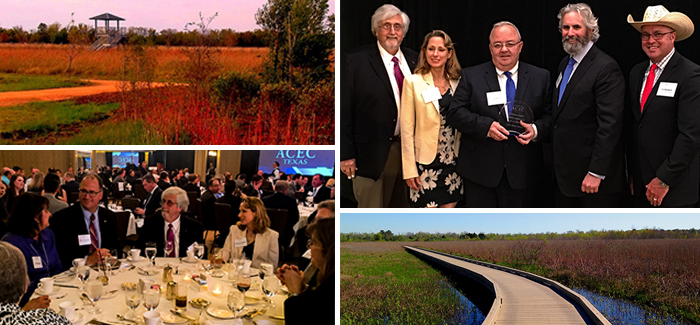 Huitt-Zollars received the 2018 American Council of Engineering Companies (ACEC) Texas Engineering Excellence Awards Silver Medal Award in the Water Resources category for the El Franco Lee Park Wetland Enhancements project! The award was presented at the ACEC Engineering Excellence Awards Banquet held on March 26, in Houston, Texas. Huitt-Zollars also sponsored a table at the event, held at the Four Seasons Hotel in Houston.
Congratulations to the Huitt-Zollars team (Randy Hickey, RA, NCARB – Architect, Project Manager and Construction Observation & Greg Wine, PE, LEED AP – Principal) and our client, Harris County Precinct One on this award!
Pictured with the award, from left to right, is Randy Hickey (Huitt-Zollars), Chavonne Slovack (Harris County Precinct One), Greg Wine (Huitt-Zollars), Gary Raba (ACEC Texas Chair), and Cal Bostwick (ACEC Texas Vice Chair). 
ABOUT THE PROJECT
The City of Houston and Harris County Precinct One acquired a 365-acre tract of land in 1984. Originally a rice irrigation reservoir, the area was redeveloped as a bird sanctuary. As development encroached towards the boundaries of the conservation area, additional protective measures became necessary to support existing conservation efforts, improve the ability to shelter this resource, and allow public access. The project includes a 1,100-foot wetland boardwalk, a sampling pier projecting from an existing pier and gazebo, an outdoor education area overlooking the existing ponds, two observation towers, a butterfly garden, a butterfly waystation, and educational signs. Accessories such as covered areas, benches, and pockets of areas with attractive native landscaping are located along the trail. The El Franco Park Wetland Enhancements project was also recognized as the APWA Texas Chapter Project of the Year for 2017.
"The El Franco Lee Park Wetland Enhancements have created an escape from the stress of everyday life. Soccer, baseball, and football fields are located in the same 300-acre park. The two-mile trail around the wetland acts as a buffer between recreational/sporting activities and the natural environment. This project is part of Precinct One's commitment to investing in our community and improving residents' lives. This is a great project that will result in many decades of outdoor recreation for people from all walks of life."   - Precinct One Commissioner Rodney Ellis