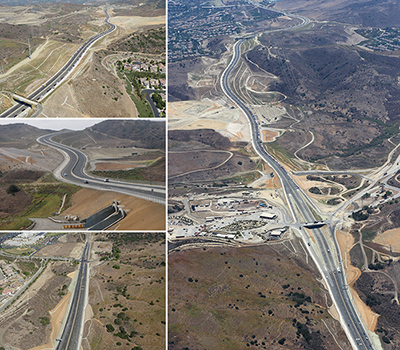 Since its opening in 2016 the La Pata Avenue Extension Project in Orange County, California has been recognized with top industry honors, including the following:
The Construction Management Association of America (CMAA) Southern California Chapter 2017 Design Quality Partner Award for Projects $51 - $100 Million. 
The American Society of Civil Engineers (ASCE) Orange County Branch 2017 Project of The Year Award. 
The Orange County Engineering Council (OCEC) 2017 Engineering Project Achievement Award.
The American Public Works Association (APWA) Southern California Chapter 2016 BEST Award for a Regional Transportation Project.
It also claimed the #2 spot on the Roads & Bridges 2016 Top 10 Roads list and was featured on the coveted front cover of the publication, reaching over 61,000 print subscribers. 
As Prime Designer, Huitt-Zollars prepared plans, specifications and estimates, and ROW documents for this 3.7-mile roadway project that spans San Clemente, San Juan Capistrano, and unincorporated Orange County, California. It will reduce congestion and improve regional mobility in South Orange County's arterial highway system. 
Huitt-Zollars provided construction management services offering creative solutions to design related problems. Lead Civil Engineer services were also provided as Staff Augmentation supporting Orange County (OC) Public Works during construction.