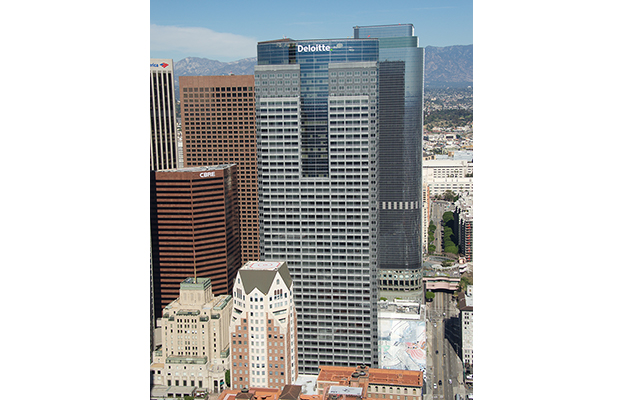 Dallas, TX - Huitt-Zollars, Inc., ranked among the nation's top design firms, is expanding in Los Angeles. In August, two of the firm's five Southern California offices, Glendale and West L.A., consolidated and moved into a new 10,000 square foot space at 555 West 5th Street in Downtown.
Noted Science and Technology design expert David Oh is the Managing Principal of the new office. The addition of Oh to the firm in June of this year along with the decision to join the two offices and move to a larger, more centralized location, is conducive with the firm's plans to expand its footprint in L.A.'s strong institutional and commercial market. The new L.A. office will primarily focus on healthcare, science and technology, entertainment, education, and hospitality. 
"With the addition of David to further develop the Science and Technology market sector and the consolidation of our Institutional and Commercial market sectors into one space positions Huitt-Zollars as a major player in L.A." said Chris Hudson, AIA, Huitt-Zollars' Commercial and Institutional leader. "David is well-known in the community and brings a lot of energy to our firm. Everyone is really excited to have him on board." 
With strong leaders in Entertainment (Glen Morris, Glendale), Healthcare (Dan Ortega, L.A.), and Education (Tim Felchlin, L.A.) now under one roof, Oh is looking forward to increasing the visibility of Huitt-Zollars in the community.
"Having such a diverse range of expertise and experience, not only in the L.A. office, but in our entire company, truly enables each of us to lean on and know that we have a team mentality to complete all projects together," said Oh. "This team mentality is what makes our design process unique. Our new space really embodies this—everyone working together towards a shared process." 
Marcy Newman, a VP in the firm's interior design group designed and managed the build-out for this office, which officially opened its doors on Monday, August 12. 
"We are thrilled to be in the new office. It brings us closer to some of our clients and key projects and just provides better accessibility for employees," said Oh. 
Current architectural projects in the Los Angeles area include work for Santa Monica College, Kaiser Permanente, the University of Southern California, Cedars-Sinai, Walt Disney Imagineering, Prospera Hotels, Westgate Resorts, Los Angeles County, and Belmont Village.
Headquartered in Dallas, TX, with offices throughout the U.S., Huitt-Zollars' integrated team of experts work across a variety of disciplines and services. Huitt-Zollars' additional Southern California offices are located in Irvine, Thousand Oaks, and Ontario. 
About Huitt-Zollars
Huitt-Zollars is an award-winning, full-service design firm ranked among the nation's top design firms by Architectural Record and Engineering News-Record. Headquartered in Dallas, TX, since 1975 and with offices throughout the U.S., Huitt-Zollars' integrated team of experts work across a variety of disciplines and services, transforming how we live, work, and connect with our world through ADVANCEDESIGN℠. To learn more, please visit www.huitt-zollars.com. 
Media Contact:
Huitt-Zollars, Inc.
Libby Rode
214.871.3311
erode@huitt-zollars.com