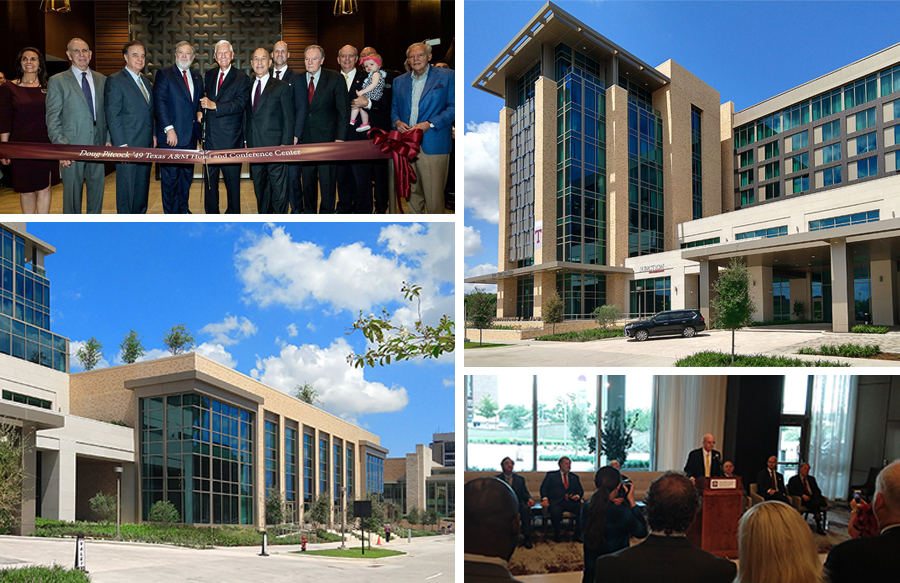 Just in time for the 2018 college football season was the opening of the new Doug Pitcock '49 Texas A&M Hotel and Conference Center, ideally located across from Kyle Field. The official hotel website highlighted details from the ribbon-cutting ceremony on August 27, 2018. "Imbued with the Aggie spirit, the Doug Pitcock '49 Texas A&M Hotel and Conference Center represents a strong sense of place," said Texas A&M University System Chancellor John Sharp, during the ceremony.
Members of the Huitt-Zollars project team also attended the celebration where Chairman Charles J. Schwartz, of the Texas A&M University System Board of Regents, thanked "the top-notch engineering, design, construction and project management teams, gracious and unwavering community support, and significant hard work by so many incredible individuals," who made this opening day celebration possible. To see video from the ribbon-cutting ceremony, click here.
Huitt-Zollars provided architecture, civil engineering, interior design, and construction management services for this one-of-a-kind property. The much-anticipated 8-story, 252,000 square foot hotel and conference center includes 250 upscale guest rooms featuring state-of-the-art technology, a full-service restaurant, bars and lounges, a business center, and 35,000 square feet of meeting and event space. A third floor, outdoor amenity level includes a swimming pool and fitness center. The hotel site, part of the Cain Hall Redevelopment project, also includes a parking garage which was completed by Huitt-Zollars in 2016.
Unique design features symbolic of Aggieland traditions, such as the prominently featured TAMU logo at the bottom of the swimming pool, were creatively incorporated throughout the décor of the property. The University's Aggie Maroon™, white, and gray color scheme were used throughout the interior and Aggie-themed artwork is featured in the guest rooms. There is even an engraved plaque reading, "Gig 'em Aggies!" in each of the guestroom showers, above the control valves.  The same "Aggie spirit" that is exuded throughout this community provided inspiration to Huitt-Zollars team members who worked on this project.  
Read more about the overall project and the ADVANCEDESIGN solutions Huitt-Zollars provided here!