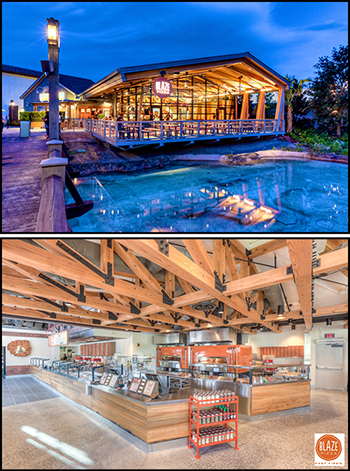 The Orlando Office celebrates the opening of the new flagship restaurant for Blaze Pizza, the nation's leading fast casual artisanal pizza chain, in Disney Springs at Walt Disney World Resort. The modern day "pizza joint," known for its chef-driven recipes and casually hip restaurants, debuts in an architecturally innovative structure that was designed by the Orlando office specifically for this iconic location. To keep with the Disney tradition of storytelling, the restaurant's design was tied to Disney Springs' turn-of-the century Florida theme as a building modeled after an 1850s-era sawmill that has undergone a contemporary design renovation.
At 5,000 square feet, the new restaurant is much larger than a typical Blaze Pizza and features two "blazing" open hearth ovens and two guest service lines. The restaurant has seating for 200 people. The dining room is themed to reflect the most recent addition to the old saw mill that focuses on showing Blaze Pizza's strong modern design ideals with large glulam beams that stretch from interior dining to an exterior dining patio. The design marks a final evolution on the outdoor patio, which features furniture made from eco-­friendly, reclaimed wood and sawdust composite. The capstone of the restaurant is a large, covered patio where both roof and slab cantilever over the waterfront.
Congratulations to Jim Younglove, Damon Smith, Billy Miller, Steve Evans, Steve Clack, and Barbara James for the completion and opening of this innovative restaurant!